Yes, please enroll me in Emotional Development 101 the ten class series.
I understand that my payment entitles me to receive
one lesson per week for ten weeks.

I further understand that on successful completition of the series,
I will be able to access the full series at any time for
as long as these classes are offered.

I understand that by registering, I accept that access to these materials
is for my use only, and I agree to the
refund policy stated here.
Your credit card will be billed one time only, so that once
your registration is complete,
you don't need to do anything further.
You will immediately receive your first lesson,
with one additional lesson every seven days
for 10 weeks plus bonus materials to support your learning for each lesson.
Note: Your credit card or bank statement will show a charge by Paypal.com
Your registration includes the extra support materials delivered to support you in your learning for each lesson.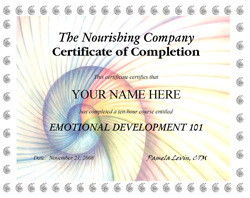 Register below for the Emotional Development 101 course
(Awarded after completion of 10 classes. Can be applied
for Transational Analysis certification credit)

Note: We hate spam as much as you do.
Your information will never be rented, traded or sold.
If You Miss a Lesson
If you are unable to access a lesson immediately after you receive it, you will be able to access it at any time after you first receive it. Therefore it's very unlikely you'll get behind, as you will be able to catch up whenever it's convenient for you.